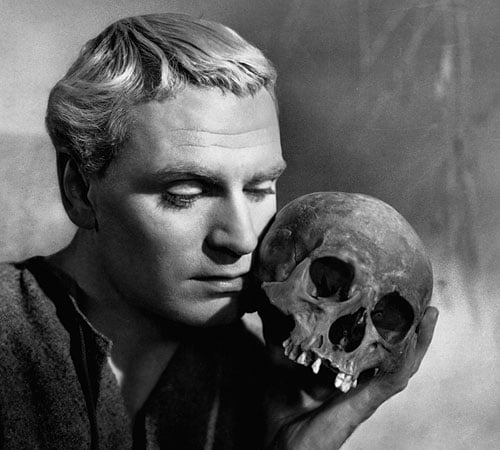 Hamlet; Argueably William Shakespeare's greatest achievement; It is one of the most well-known pieces of literature in the world. It's where we get the whole To Be, Or Not To Be quote from. It is also the explanation of why a human skull is often paired with Shakespeare. In my opinion, although it is not my favorite (Macbeth), I still have to give credit where credit is due. Every time that I have seen this performed, it is usually done pretty well.
Unfortunately, it has a black cloud over it for me. You see, a lot of people that I have met who are Shakespeare enthusiasts like to argue the fact that the Disney movie
The Lion King
is based off of William Shakespeare's
Hamlet
, which is like the bible to those Shakespeare superfans.
The Lion King
, which is MY favorite Disney movie, is the story of a pack of lions who rule the pridelands of Africa. Mufasa, who is the King, has a son named Simba, who is next in line to become King. The only problem is that Mufasa's brother Scar is extremely jealous of his nephew Simba. So jealous, he creates a plot to kill his brother and convince Simba that it was his fault and make him leave the Pridelands and never return. Well, the plan works, and Simba is banished and doesn't return until his dead father convinces him that he must take over as King. So he comes back, kills his uncle, and takes over as King. The End. Great Story.
Now, there are a few similarities to things that happen in Hamlet and things that happen in The Lion King. So the Shakespeare fanatics have decided that The Lion King must be based off of Hamlet. Well, I am here to tell you that it is NOT based off of Hamlet. Here's why.
Now, one argument that people always bring up is that they are both about a brother killing a brother to become King. Now, this is definitely true. They both have a brother that kills their brother to become King. Claudius kills Hamlet, and Scar kills Mufasa. But, this does not mean that The Lion King was thinking of Hamlet when they were thinking of this plot. Over the course of human history, the world has seen many changes of thrones with Kings. A lot of kings have been killed by their brothers to become king. William Shakespeare is not the first person to think of such a concept. This is not something that was unheard of when Shakespeare wrote this play. To think that Shakespeare came up with this concept out of his own imagination is absolutely ridiculous. In Hamlet, you don't find out about Claudius' dirty deed until a little bit into the play. The action actually does not take place in the play. it is exposition. In The Lion King, you see him plan it, execute it, and then lie about it. There is nothing hidden in the movie. Now tell me, how is that the same?
Another ridiculous comparison that people like to bring up is the similarities of Rosencrantz and Guildenstern and Timon and Pumbaa.
Now, this comparison is the one that makes me the most angry. Just because they both serve the same purpose of comic relief, they automatically assume that one was taken from the other. Now, the argument is that since there are two of them, they must represent Rosencrantz and Guildenstern. Oh okay. So let's just assume that any comedic duo in history is just copied from William Shakespeare's comedic duo. In that case, Abbott and Costello, Dean Martin and Jerry Lewis, The Smothers Brothers, they all must have taken their idea of a comedic duo from William Shakespeare. This is just ridiculous. Just because they are a comedic duo that come in as comedic relief, it doesn't mean that they represent anyone. They are just a comedic duo, and you just have to accept that.
There are so many other arguments that I have heard, like how Hamlet and Simba both were banished. This is also ridiculous because they were both banished for different reasons. Hamlet was banished because he went crazy and killed Polonius. Simba was banished because Scar blamed the whole death of his father on him, and if he returned, he would be killed. Where's the comparison?
Another comparison that is always made is the fact that both of the main characters get visited by the ghosts of their respective dead fathers. Yes, you're right. they are both visited by their fathers. This is no reason to jump any sort of conclusion. These 2 events are completely different. Hamlet's father comes to him to tell him that Claudius killed him and he needs to seek revenge. Now, as an audience member, if you hadn't read the play, you start to wonder if he was crazy or not. It is not until Claudius confesses to the audience in a monologue that you know Hamlet isn't crazy. In The Lion King, Simba is visited by his father when he is shown that Mufasa lives inside of him. When Mufasa visits Simba, he just tells him that he is the one future King of the Pridelands and he must take his thrown. He never tells Simba that Scar is the one that killed him. In fact, Simba still thinks that it was his fault, even after Mufasa leaves. Again, when you look at the two, there really is no comparison.
To say that The Lion King is based off of Hamlet is just wrong. In fact, The Lion King is pretty much a ripoff of a Japanese anime movie called
Kimba The White Lion
, which is a movie based off of an old T.V. show. Every character in The Lion King have a matching character in Kimba The White Lion. There has been so much evidence and facts thrown in the face of Disney, but Disney is sticking to their guns and saying that they had never even heard of Kimba. Kimba? Simba? is there a similarity here?
The story of The Lion King is also an ancient African story of a Prince that was accused of murdering his own father and gets banished by his uncle, who was the real murderer. So, the son gathers himself an army and seizes the kingdom, and his uncle gets exposed and he is put to death. At least that is what I was told by my World History teacher in high school.
This is actually, if you look at Disney movie history, sounds more like something that Disney would do. Most of Disney's movies are based on classic fairy tales from different countries around the world. For example,
Snow White
is a German tale,
Beauty and the Beast
is a French tale, and
Pinnochio
is an Italian tale. They also make movies based upon classic novels, like
Peter Pan, Aladdin,
and
Alice in Wonderland
. They even make up their own stories, like
The Aristocats
and
101 Dalmations
. It really doesn't make sense for Disney to take a classic play and make a movie out of it. The play is made up of dialogue already. It can't be interpreted into a different story because the story is already there for them. If they were going to make a movie, they would just call it Hamlet, or something. They would make a Hamlet movie and interpret it so that kids would understand it.
So all in all, that is why saying that The Lion King is based upon Hamlet is just absolutely ridiculous. If you agree or disagree, you can leave your comments on the bottom. If I have changed your opinion, I would love to hear that as well. If you don't like this blog, then you are just going to have to suck it up. This is my blog for my opinions. You don't have to follow it.